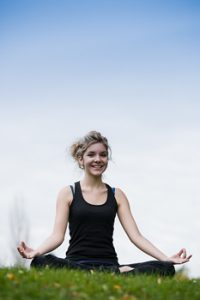 You know the traditional "wellness" program drill: reduce health risks, cut costs, and (theoretically) increase employee engagement.
But does it really improve engagement?
A new report by Quantum Workplace and Limeade, "Workplace Well-Being: Provide Meaningful Benefits to Energize Employee Health, Engagement, and Performance," sheds light on the myths of the wellness industry.
Simply put, employee engagement is about a lot more than physical and emotional health. It's about employees believing that their employer cares about staff health and well-being — and provides engaging ways to improve health, wellness, performance, social connections and, ultimately, culture.
While programs can differ from one company to another, here are ten best practices that apply universally:
1. Turn the C-suite into champions
Your senior leaders need to be accessible to employees, visibly participate in the program, and encourage others to do so. Find out what your CEO's passion is and turn it into a challenge he or she will stand behind. And don't stop there — next go to the CTO, COO, CFO, CIO and so on. One customer of employee engagement platform company Limeade found that emails coming from the CEO had a 65 percent higher open rate, so take advantage of emails from the top. The more local, relevant and personal, the better.
2. Start strong
Make sure your program is easy to access (one click from your intranet) and that registration is seamless. And have your key stakeholders and managers sign up right away, so they can challenge their teams to get fired up, personally and authentically. You can always use insights to tweak programs or to offer new campaigns and challenges and target particular subsets of your population, but you still only get one chance to make a first impression.
3. Throw out the cookie cutter
This is your program, so design it to feel that way. The look and feel should emulate your brand and vibe, and feel like it's coming from within. Blend the familiar with something new and inspirational, and adoption will happen organically. Have courage and be bold.
4. Provide meaningful (and locally relevant) incentives
Reach out to employees to find out what motivates them. That might include recognition, personal time off, veggie smoothies, cash, prizes, cheaper insurance or sports tickets. Maybe they just want the chance to dump ice water on the CEO's head. Know what will work for your people, and recognize that incentives probably vary by employee type or location, so let people choose locally, too.
5. Play up local pride
Your employees chose to work at your company for a reason, so serve up the culture they know and love. Keep activities fresh, fun, and relevant to your company and community. A Limeade customer based in Philadelphia recently launched a popular "Fit Around Philly" challenge, encouraging employees to do healthy activities at local landmarks like running up the "Rocky steps" at the Philadelphia Museum of Art.
6. Build a champion network
Online communication is a powerful tool, but personal connections are priceless. Recruit a community of employees who are passionate about wellbeing or have a knack for rallying the front-line troops. Give them the tools to evangelize the program and publicly recognize their leadership.
7. Share stories and creative communications
Everyone feels the agony of email overload, so look for fun alternatives. Use simple, engaging communication that quickly answers the question, "What's in it for me?" Use at least two additional channels — like social media or direct mail — to reach people where they are. Add some emotion by sharing success stories that show your people how their peers are changing for the better. Nothing spurs engagement more than real, authentic human emotion.
8. Keep it fresh
Sustained engagement is achievable if you give your people a reason to keep coming back. Choose at least five challenges or campaigns per quarter, and make sure there's something for everyone. Lean on your vendor partners for best practices, and let real-time data on program engagement and improvement be your guide.
9. Know what's working and change what's not
No program can succeed without consistent evaluation. The lifeblood of your program is setting measurable, relevant objectives and tracking metrics regularly – preferably with real-time engagement dashboards and strategic consultants to take action. If it's not working, then good for you. You tried something new and learned what not to do. Now move on to your next hypothesis.
10. Share your story
Once your program starts driving positive outcomes, shout it from the rooftops. This will help justify your investment, highlight your department's innovation and, best of all, spur a virtuous cycle of engagement from your people. Your C-suite will double-down on their commitment and support, too — it's working, they have no choice. Peer testimonials personalize your program and can give skeptics the proof they need to get involved. Success stories also help you attract new, evangelical talent to your company.
Start putting your energy where your mouth is when it comes to your employees and their wellbeing. The payoff is both short-term and long-term, so make it a priority!