05 Jul

4 steps business leaders can take to nurture female tech talent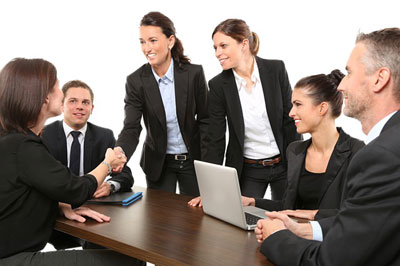 Today, women account for less than 34 percent of U.S. technology jobs.
The outlook for tomorrow is equally disappointing: 23 percent of middle and high school girls have considered pursuing IT careers, according to a new research campaign from nonprofit technology industry trade association CompTIA.
But women aren't simply avoiding technology; those that hold tech jobs often end up leaving them.
Todd Thibodeaux, president and CEO of CompTIA, believes that addressing the IT gender gap starts at the top. He and I recently spoke about specific steps business leaders can take to nurture their female IT employees' career development and foster a culture that encourages them to stay.
1. Promote employee sponsorship
Just 37 percent of girls in CompTIA's survey know someone who works in technology, but among those that do, 60 percent have contemplated a career in tech.
As Thibodeaux explained, the power and influence of role models doesn't fade as we grow up. Women in tech roles today cite a lack of role models and mentorship at work as two of their biggest career challenges. Employers can correct course by formalizing not only mentorship, but sponsorship initiatives.
Beyond mentors (colleagues or supervisors who offer guidance, or the opportunity to vent), sponsors advocate and are accountable for helping the people they support achieve their goals. Research shows that women with sponsors are more likely to stay in their jobs and be satisfied with their rate of career advancement.
2. Define individual career paths
More than one-quarter of women in science, engineering and tech roles feel stalled in their careers — a reality that motivates many to leave for other fields. With so few women holding the CIO title, the path forward for an entry-level or mid-career woman in tech may seem vague at best.
To avoid this professional plateau, human resources leaders and technical managers must work to refine and communicate individualized IT career trajectories. Just as young girls need information to understand the diverse array of IT jobs available (beyond coding), women in these jobs need information about the opportunities available to them for advancement.
3. Match culture to internal policies
Maternity leave in the United States continues to be a pressing issue across the public and private sector. We're the sole country in an Organisation for Economic Co-operation and Development (OECD) list of 41 advanced nations that does not require paid leave for new parents.
And though many companies (including major tech employers like Google and Facebook) have expanded their leave policies to encourage employee retention, policies alone aren't enough. By listening to numerous stories from women who left IT careers after giving birth — those who were expected to be on-call during leave, or came back to an entirely different set of job duties — it's apparent that employers' corporate culture does not always reflect the benefits in place. Employers must set an imperative that all employees respect and abide by these policies in theory and practice.
4. Rethink performance management
A growing body of research explores another gender divide: the confidence gap. In professional settings, women are more likely than men to underestimate their own abilities or actively seek out new opportunities.
Traditional performance management practices exacerbate this rift, particularly for women in technical roles. Self-evaluations, for instance, can reflect employees' confidence more than their actual talents — but many employers rely on them for coaching and promotion decisions.
There are multiple ways to combat this phenomenon. Google (which uses self-nominations for promotions) instituted workshops where female executives directly encouraged women engineers to recommend themselves. Mandating "unconscious bias" training for managers (regardless of gender) and adopting a more data-driven approach to employee evaluations can also make advancement more objective.
Making the technology industry more inclusive isn't only a matter of attracting more women. We must be equally focused on supporting those who are already a part of it.
Join Dana Manciagli's Job Search Master Class® right now and immediately access the most comprehensive job search system currently available!