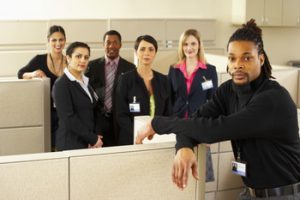 Is your company's IT infrastructure prepared for an influx of millennial employees? Within the next decade, millennials are expected to dominate 75 percent of the workforce — and a growing number of employers are getting prepared for this massive shift in the labor market by investing in millennial-friendly technologies.
Are you ready?
According to new research from Randstad Technologies and IDG Research Services, many IT departments are unprepared for the upcoming millennial shift. The study, conducted among IT managers across a range of U.S. company sizes and industries, found that while two-thirds of IT leaders say they have or are formulating a plan to address millennials' technology needs, one-third of respondents admit they have not addressed these issues in any formal way.
Millennials (born between 1980 and 2000) have their own ideas and expectations when it comes to workplace productivity. Raised in a digital society, they're accustomed to having access to information anywhere and anytime. They prefer easy-to-use apps rather than enterprise-level software, and they want a work environment that fosters collaboration and feedback.
Companies whose IT infrastructures don't support the needs of this tech-savvy generation risk losing out on top talent.
"There is a gap between what IT departments can provide and what millennials expect," said Bob Dickey, Group President, Technology & Engineering, Randstad US. "This can pose a real problem as millennials continue to have a growing presence in the workplace. To attract and retain the best talent from this demographic, IT leaders must rapidly adopt the latest technologies into their infrastructures. Failure to do so could result in turnover among millennials and a struggle for employers to recruit the best people from this generation."
Given the coming changes to workforce demographics, here are four ways IT leaders can adapt to the millennial shift:
1. Get mobile
According to the study, 78 percent of IT leaders have seen an increase in their organization's mobile/remote workforce, and 60 percent of IT leaders plan to increase investments in mobile within the next year.
If your company hasn't invested in mobile, including adopting a bring-your-own-device (BYOD) policy, you should start now. Because they are joined at the hip with technology, mobility has become an essential factor among millennial employees when it comes to workplace productivity.
2. Foster collaboration
IT leaders are also realizing the importance of developing communication and collaboration tools. More than half of IT leaders view communication and collaboration tools as essential to supporting the millennial shift, and 43 percent of IT leaders plan to invest more in these technologies.
Devoting resources to collaborative tools not only benefits Millennials who prefer working in teams, but also baby boomers who may want to remain in the workforce as part-time employees or consultants.
3. Invest in the cloud
Cloud computing is another important factor for IT leaders to consider as they prepare for the millennial shift. In fact, 40 percent of organizations recognize that cloud computing is a requirement to meet changing workplace dynamics, and 49 percent of respondents say they will invest or increase investments in cloud computing over the next year.
Millennials already use cloud-based email and project management systems and will likely prefer companies where they can use these tools instead of complex, proprietary systems. What's more, by enabling employees to work anytime, anywhere, IT departments will accommodate the growing freelance contingent of the workforce, as well as millennials.
4. Enhance security management
While IT leaders are making plans for new technologies to support Millennials in the workplace, these changes also bring security concerns. According to the study, 40 percent of organizations recognize that cloud computing is a requirement to meet changing workplace dynamics, and 49 percent of respondents say they will invest or increase investments in cloud computing over the next year.
Embracing new technologies is important for companies to remain attractive to top talent, however, ensuring company data is safe is also a key factor. Therefore, mobile and cloud security should be a priority among IT leaders.
For some companies, getting ready for the millennial shift could present a need for hard-to-find talent, such as employees skilled in security, data analytics, cloud and data integration.
"This could present a challenge given the current IT shortage," Dickey said. "Companies may consider outsourcing projects to service providers and contractors so they can consistently maintain current technologies and remain attractive to the best job candidates among the millennial generation."
For more information, download the Randstad Technologies report, Preparing for the Millennial Shift.