We all know that work can be stressful at times. And stress at work comes from so many sources: leadership change, economic shifts, sometimes morale just feels low.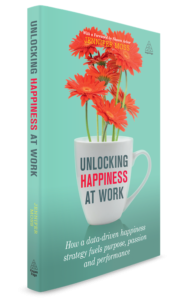 I asked Jennifer Moss, cofounder of Plasticity Labs and author of Unlocking Happiness at Work, for advice and she shared five tactics to combat stress in the workplace.
1. Kick-off a gratitude project.
You may wonder how your colleagues would react to this idea but trust me – it will work. Research proves that a few weeks' of focus on workplace gratitude will improve the sense of community amongst peers by nearly 40%. Start by picking up sticky notes and markers, set up a whiteboard or a space on the wall and get posting. Challenge your staff to 30 days of gratitude focusing on "what made work great today."
2. Practice positive gossip.
What is positive gossip? Sounds like an oxymoron, doesn't it? Actually, it's exactly as it sounds. Start talking behind your coworkers back. One caveat, don't complain. Instead, share the best of what your coworkers are up to. Don't make your coworkers amazing accomplishments the world's best-kept secrets. Make sure you give these unsung office heroes the credit they deserve. As they say, "What goes around comes around!"
3. Look up and get out.
One of the best ways to shake off a bad mood is to be of service to others. Ask your boss if you can organize a volunteer day or half-day with your coworkers. Or arrange to kick-off a fundraising program like an eco-club or a food drive. Sometimes we just need to look up and see outside of our own personal stresses. One act of kindness towards another will increase your happiness 3X more than if you did something for yourself. And, volunteering as a team creates a healthy bond with others and a positive workplace culture.
[clickToTweet tweet="1 act of #kindness increases #happiness 3X more than if you did something for yourself." quote="One act of kindness towards another will increase your happiness 3X more than if you did something for yourself."]
4. Get moving.
When we experience workplace anxiety, our bodies will overproduce cortisol, an unhealthy stress hormone. Increased cortisol can increase weight gain, negatively impact sleep, and it can even increase risk of stroke and heart disease. Increasing endorphins is the best defense and exercise can help. We often hear that time, or lack thereof, is the biggest barrier to prioritizing exercise.
But, what if I told you there was a solution to that? Start by taking three meetings a week while walking and talking. Whether on a call, or with a colleague, take your meetings on the run. Research proves that moving while you meet increases your heart rate, delivers more oxygen to the brain, and subsequently, gives you better access to the creative center of your brain.
5. Breathe.
No one wants to be told, "just breathe" when they're going through a stressful time at work and in life. However, hear me out. By taking only five minutes (yes, just five minutes) every day to practice mindful breathing, you'll enhance memory, concentration, performance, emotional regulation, and sleep. This is one of the simplest ways to combat stress and the benefits are immediate. All you need is five minutes, a quiet space, and an open mind.
Join Dana Manciagli's

Job Search Master Class® now and get the most comprehensive job search system available!