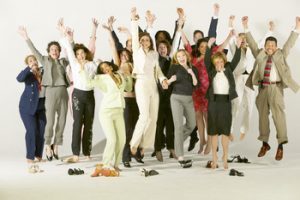 You see it all the time: midnight emails, dinnertime or weekend conference calls, projects finishing up in the wee hours of the morning.
No one seems to work nine-to-five anymore — not you, not your employees.
To explore this "work anytime, anywhere" phenomenon, a new study conducted by the business-to-business division of Staples gets at the heart of employee attitudes toward the shifting ways we work, and what keeps them happy in their jobs.
While most employees are happy at work despite working longer hours, employers can't rest on their laurels, and keeping employees happy is a job in itself.
Study results
The Staples study revealed surprising statistics that cause companies to look at workplace happiness in a new way and, more importantly, understand how to create and maintain a happy, motivated and productive staff. While 52 percent of office workers say they are suffering from burnout as a result of the hours they work, 86 percent are still happy at work and motivated to rise in their organizations, so there's more to workplace happiness than what we might initially think.
To help explain this dichotomy, I spoke to Dan Schawbel, founder of WorkplaceTrends.com. According to Schawbel, employees are overworked and burnt out, yet they are still happy, loyal and interested in moving up to management in the next few years. They've accepted the new realities of the workplace.
He added that in today's world, workers are always on call and have to put in more hours for the same or less pay. As a culture, we've accepted this change because of the integration of smartphones, wearables and tablets in our daily lives. But that doesn't mean sacrificing happiness. Here are five tips to keeping that upbeat feeling:
1. Hours aren't everything
There is very little difference between the hours worked by happy employees and unhappy ones. Workload doesn't necessarily impact happiness directly, but the way people work does.
Given the rise in technology that enables us to work anywhere and anytime, employees are now working in ways that best meet their schedules.
Encouraging employees to work outside "normal" hours — flexible scheduling — can result in better, more productive work and increased happiness.
2. Invest in your employees
The happiest workers are more likely to say that their employers provided them with a wider range of technologies and tools to help them better do their jobs. For example, 50 percent of the happiest workers were supplied with laptops, compared to only 23 percent of the least-happy workers.
Spending to provide employees with the latest and greatest technology will ultimately mean happier, more loyal staff.
3. Encourage breaks
Your employees aren't taking enough breaks and they should be. While it's no surprise the unhappiest workers were more likely to feel they were unable to leave their desks to take a break (69 percent), too many happy employees echo the same sentiment (44 percent).
Encourage periodic breaks for staff to recharge and increase both productivity and morale.
4. Implement a telecommuting/flex work policy
If you don't have flex scheduling, consider adding it ASAP. Flexible working has a crucial role in employee happiness. About 63 percent of the happiest workers said they were able to either telecommute, work flex-time or both. This compared to only 22 percent of the least-happy workers.
Implementing an official flexible work policy will encourage employees to work in the environment that suits them.
5. Go green
The happiest workers are more likely to work in companies with eco-friendly policies of some kind (74 percent). Because sustainability is becoming more and more important for employees, it plays a huge factor in talent retention and helps keep employees motivated.
Small changes can go a long way to keeping employees happy and loyal. We're moving toward a workforce that works where they want, when they want, so it's crucial to keep them motivated. Overall, employees may be happy, but employers need to keep them that way. Make sure they have the tools, the flexibility, and the work environment that's best for them.
After all, a happy, motivated employee is a productive employee.