A lot of people might assume that being memorable is simply a matter of showing up somewhere and talking to someone. What does it mean to be memorable? What are the components of being memorable?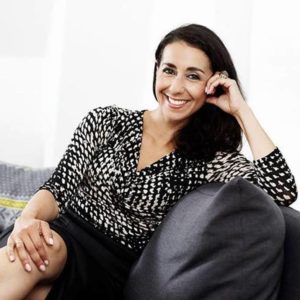 Want to know how to put it all together, in 6 steps? I spoke to Soulaima Gourani, public speaker, corporate advisor, and TED Talks mentor, about ways to stand out the next time you are networking.
The recipe for becoming memorable is relatively straightforward. Many of us can increase our rate of memorability by training our "likeability." When you meet someone for the first time, it is essential that you spend the first couple of minutes wisely.
[clickToTweet tweet="Being #memorable is essential for every #ambitious person." quote="Being memorable is essential for every ambitious person."]
Soulaima's tips to being memorable
1. Be genuine.
When you meet someone for the first time, focus on earning their trust by starting a genuine conversation. Be concerned about them as an individual, not just as a business interest. If you can create trusting relationships with people you encounter you can build their trust and become more memorable.
2. Body language is critical!
If you hide your face/look down/away, your introduction will become a waste of time. It is okay to be shy and introverted – but be proud of who you are and OWN it with pride, confidence, and dignity.
3. Find out how you can help each other.
Everybody has a special competence from which other people can benefit—you just need to identify it and communicate it so that people can remember you. Describe your unique talents and skills in a way that brings value so they can quickly get an idea about who you are, what you can do, and your professional goals. People remember you better if you replace "My title is …" with something like "I help people with …" And always ask, " How can I help YOU in the future?"
4. Relatability.
Can people relate to you? Find something where you have a similar interest or connection, whether it's a restaurant, music, travel destination, or a TV show.
5. Your open-mindedness.
Never be judgemental, keep an open mind, even if you don't agree with the other person's opinion or view. You don't have to agree with everything, but show the other person that you are open to listening.
6. Be a Good Conversation Starter.
When you meet someone for the first time, start a genuine conversation with them and focus on earning their trust. No one remembers those who play it safe with "small talk."
Bonus Tip: Use the 70/30 rule
The 70/30 rule simply means that 70 percent of the time you should talk about professional matters such as a project, a problem, a sale, etc. The remaining 30 percent, you should talk about something that is personal, but not too private—something that you are pondering, considering, something that interests you, bothers you, worries you, or pleases you. Give something of yourself so that you become informal and personal.
And pay attention to the short personal stories that people share with you. If you remain too professional, formal, and distant, you may miss out on a valuable opportunity to establish the kind of trust that is the foundation of a fruitful professional relationship.
[clickToTweet tweet="No one #remembers those who play it #safe with "small talk."" quote="No one remembers those who play it safe with "small talk.""]
Dana's Bonus Tip: Always follow up
Within 24 hours, connect on LinkedIn with those you meet and request a follow-up meeting to begin building a long-term, 2-way relationship.
Being memorable is essential for every ambitious person, after all, people don't know you exist if they can't remember you.