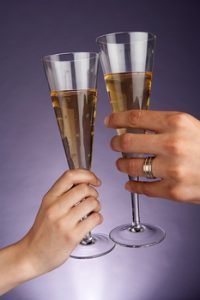 The season of holiday parties is coming up, and with many professionally oriented events, it may be time to brush up on your networking skills.
There are some strategies that can help you make connections, while still having fun.
Here are eight tips that will make the most of your party time:
1. Get to the event early.
Catch people when they are fresh and before it is too crowded, that's the best time to network. If you are with friends, just tell them that you are going to "work the room" so you won't be hanging with them all night. Circulate; don't coagulate.
2. Be hands-free.
You'll need to be able to shake hands, use your hands to talk, or make notes on someone's business card so you'll remember what you talked about. Check your coat and briefcase, or leave them at home. If you're carrying a bag or purse, consider an over-the-shoulder style.
3. Put your name badge on your right side.
Your right shoulder is your leading shoulder when you shake hands. It comes forward and makes it easier to read your name badge. (Ladies, don't put that badge too low. It can be embarrassing for you and the gentleman trying to read it.) And if your badge comes on a lanyard, tie a knot in the back of the cord so it sits high enough for others to comfortably see at a glance. If you handwrite your name badge, just put your first name in big letters so it's easy to read. That's really all anybody cares about and remembers anyway.
4. Bring business cards
Countless people who go to networking events make the horrible mistake of arriving without business cards, then they tell people they ran out. Oh, really? If you are "between jobs," order some or print on your desktop printer. Just have them.
5. Be interested, not interesting.
Ask more questions than you answer, listen carefully and make eye contact. And, please, don't keep glancing around the room while you are talking to someone. That's rude.
6. Don't spend too much time with one or two new people.
No matter how engaging they may be, let others have an opportunity to meet them. Besides, you need to "work the room" too. Ask if you can talk at a later time, get a business card, and then move on.
7. Follow up with people you meet
You get all dressed up, go to an event, meet great people, and then do nothing? What a shame. Connect on LinkedIn or send a personal e-mail within 48 hours, and no later!
8. Don't drink too much.
Did I really have to say that? While it's the holiday season and you are at a party, remember you are creating a first and lasting impression. Don't make an impression you'd rather forget. You can alternate an alcoholic drink with a glass of water, drink sparkling water, set a certain drink limit for yourself or just don't drink anything.
Have a great time, enjoy some fun parties and meet some fascinating people. And keep networking!