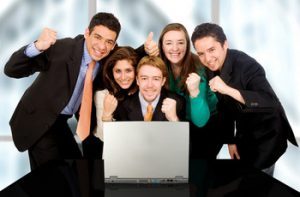 Listen up, business leaders and human resources managers. How much time do you spend planning for the next generation of employees? I'm talking about those already in the job market (ages 21 to 32) and those who are 16 to 20 years old now.
As the job market continues to tighten and favor job seekers, employers should be listening closely to what those prospective employees are looking for in the workplace. What's appealing can include anything from salary and benefits to management styles and company culture.
To discover what's most important to America's youngest employees, Randstad US and Millennial Branding recently conducted a study on the workplace preferences of Gen Y/millennials and the next generation of workers, Gen Z. The insights derived from this study can help you improve the attraction, retention and engagement of your current and future employees.
Here are four steps you can take that will make your company more attractive to the next generation:
1. Provide competitive healthcare benefits
In terms of benefits, healthcare coverage is the clear leader for both generations. About 38 percent of Gen Zs say healthcare is the most important benefit an employer can provide, which is more than double the number who name work flexibility as the most attractive benefit.
Paid vacation time ranks third, and it is the top choice of only 9 percent of Gen Zs.
Similarly, more than one-third of Gen Y respondents say they are most interested in receiving healthcare coverage, while 17 percent prefer paid vacation time and 11 percent believe work flexibility is the most important benefit.
2. Offer a wellness program
In addition to healthcare benefits, both generations express a high interest in employer-provided wellness programs. About 54 percent of Gen Zs and 58 percent of millennials indicate that a company-supported wellness program is important or extremely important.
To boost attractiveness to younger workers and ensure that benefits are up to par, employers would do well to evaluate and compare benefit offerings to those companies that are "employers of choice" both within and outside of their industry.
3. Consider their influencers
Randstad's research shows that when looking for career advice, Gen Ys prefer to talk to their friends or managers, with only 16 percent relying on parental advice. However, the next generation's choice of guidance and inspiration is drastically different. More than half of Gen Zs rely on parental advice to influence their career moves, and a strong majority want a workplace mentor.
By understanding that Gen Zs are interested in and accustomed to strong one-on-one interactions, organizations of all sizes can create pathways for formal or informal mentor relationships that will prove attractive to Gen Z applicants.
4. Reconsider your work environment
When asked to select the type of work environment they feel is best for collaboration, the two generations show some interesting differences. Gen Ys strongly prefer to work in a corporate location, while 27 percent prefer a co-working environment. More than one-third of Gen Zs do not show a workplace preference and, similar to Gen Ys, 26 percent selected a co-working situation.
While it might be assumed that large numbers of both generations would prefer to work at home, only 11 percent of Gen Ys and 20 percent of Gen Zs selected a home office as a top workplace environment. Employers should also note that nearly half of Gen Zs think personalizing their workspace and listening to music/wearing headphones is important, while Gen Ys are influenced by the location of a job site and the size of a work space.
Companies that align employee attraction strategies and corporate culture with generational preferences can gain a distinct advantage in the hunt for top talent. To read more generational survey findings and to download employer tip sheets, visit Randstad's Workforce360 thought leadership website.