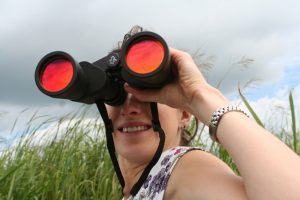 Question:
My husband and I will be moving across the country in a year and want to get an early start on searching for jobs. How do you search for a job long distance in a city where you have few connections? And what's the best way to do it when you won't be starting the new job for a year?
Answer:
Bravo to you for planning this far in advance. It is never too early, even if you are job-searching locally, but a long-distance job search does take longer.
Here are things you can do right now. Prevent the random-acts-of-application (or R.A.A.) and convert to "ready, aim, fire."
Ready (planning and goal setting):
Set your goal. What job function, what industry, what size company, and any other criteria you have. Write it all down.
Get your head screwed on straigh t. Prepare to put aside any negativity from the past, block plenty of time in your calendar, and commit to the intensity of the job search process.
Aim (preparation):
Organize your job search tools. Build a job tracker. I recommend a digital option such as Microsoft Excel or OneNote. Or if you prefer, feel free to use a good old-fashioned binder — but use something to capture all of the information you will gather.
Research. Invest now in subscriptions to local magazines and newspapers in your future city so you can learn about the companies, the industries, and the people that are big there. (The Business Journal is a great source of company information, and a subscription includes a copy of the Book of Lists, which includes most of a community's large and mid-sized companies). Identify the companies you would like to work for and visit their websites to learn more about them. Now look to see the jobs they have posted.
Get your résumé and cover letter together. Update your résumé and create a new version of your cover letter. Add the appropriate keywords and get both documents edited. You don't need to put your home address on your résumé, it they want it, they'll ask.
Clean up your social media. Aside from ensuring you have a great profile on LinkedIn, including a photo and summary, be sure you are always professional and non-controversial on Facebook, Twitter, and any other social media platform.
Fire (applying and interviewing):
Six to eight months prior to your move, and after completing your preparation, you can begin to apply.
Address the obvious challenge of your location in your cover letter. How? In the first sentence of your cover letter say something like, "I will be moving to St. Louis in March 2014 and am interested in working for your company…" This removes the hidden concern that you will need to be relocated (often an elimination issue due to budgets) and shows that you are committed to the move.
Begin networking. As you read about movers and shakers, or as you read speeches, presentations and social media about leaders in your field, do a professional job of connecting with them via LinkedIn.
Follow up relentlessly on all contacts made. This will make or break your chances to "win" a job in today's competitive job market. I recommend that you follow up three times: at the one-week mark, two-week mark, and then the third.
If possible, travel to the future city. Set up networking meetings, informational interviews, and attend large networking events. Your local Business Journal offers many opportunities
In summary, manage your expectations. Your job search will take longer, simply due to the dynamics of your long distance location. However, many people are conducting long-distance job searches and successfully landing great jobs.