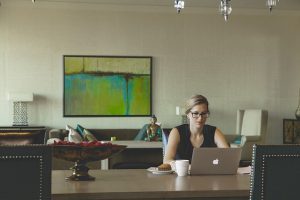 Who wouldn't like to work at home? Pajamas, the cat (or dog), the telephone, the computer, and you're ready to roll.
Ever tried to look for a job that will let you do that?
The work-from-home job market is rife with scams and too-good-to-be-true jobs, including those "stuff envelopes at home" offers. So, how can you find legitimate telecommuting jobs? Real jobs where you can work from home successfully?
The dream of working from home is becoming a reality for millions of people. Telecommuting participation has grown 103 percent in the last 10 years with 4.5 percent of Americans working from home full-time every day. Another 37 percent work from home regularly, at least a few days each month. And a recent survey by FlexJobs, a job-search service that specializes in telecommuting and flexible job listings, found that telecommuting full-time is the most popular type of flexible work, beating flexible scheduling, partial telecommuting, and freelance work options.
I recently spoke with Brie Weiler Reynolds, director of online content at FlexJobs, to get her advice on how to search for — and land — telecommuting jobs, and what it takes to be a successful telecommuter. Here's what she suggests:
Focus Your Ideas Before You Start Searching
There are a lot of variations and options when it comes to telecommuting, says Reynolds. Some jobs let you telecommute 100 percent of the time, always working from home. Others may require you to work from the office occasionally — or even regularly. And some have location requirements even though you'll be working from home.
In order to find the right telecommuting job for you, ask yourself these questions:
Do I want to work-from-home all the time, or would I be okay with working from an office occasionally?
How much travel, if any, do I want to do?
Would my current employer be open to letting me telecommute?
For that last question, you may be pleasantly surprised to learn that you can telecommute in your current job. Reynolds recommends that you do some research to see if other people in your company work from home and ask them how they got into it. Then set up a meeting with your boss to discuss your options.
Know the Most Common Telecommuting Industries and Jobs
The most common fields for telecommuting jobs are, in order, medical and health, sales, customer service, administrative, computer and IT, education and training, accounting and finance, account management, data entry, and bilingual jobs.
As far as location goes, these 10 states have the highest number of telecommuting residents: Montana, Vermont, Colorado, Oregon, Idaho, New Hampshire, Arizona, South Dakota, Utah, and Washington.
While these career fields and states have the most telecommuting jobs, Reynolds notes that there are open telecommuting jobs in more than 50 career fields and in all 50 states, so don't be discouraged. Your search may take a bit of extra effort, but there are telecommuting jobs in almost every industry and location.
Use the Right Keywords In Your Job Search
Reynolds recommends staying away from keywords and search terms like "work-from-home" and "work-at-home," which are commonly associated with job scams. Both the FBI and the Better Business Bureau have issued warnings against those phrases. Instead, she recommends searching for remote work, virtual jobs, at-home jobs, distributed teams, and telecommuting jobs to find real listings.
Showcase Your Best Telecommuting Skills
Hiring managers like to see previous telecommuting experience, says Reynolds. If you've ever worked from home, even just during bad weather or when you were waiting for the cable guy, use that experience in your job applications. It shows them that you understand what it takes to be successful when working from home.
Regardless of whether you've ever worked from home before, Reynolds says that these are the types of skills and attributes most sought-after by employers that offer remote jobs. Be sure to highlight whichever of these skills you possess in your job applications.
Strong written and verbal communication skills
The ability to manage your own time and attention
Focusing and keeping yourself on task, even amid distraction
A dedicated home-office space and high-speed Internet access
Previous experience communicating through IM/chat, email, phone, web conferences, and video conferences
Once You Land the Job, Focus On Communication and Results
When it comes to being a successful telecommuter, Reynolds says communication is paramount. Observe (or ask about) how your new team communicates with one another, and quickly learn any new programs or communication tools as necessary. Discuss meetings and regular communication with your manager, and make a plan to keep him or her informed of your progress. When in doubt, always speak up and ask questions.
Reynolds emphasizes that the most successful telecommuters are open communicators who actively grow and maintain connections with their coworkers and managers, even if they're working thousands of miles apart.