09 Nov

Skilled apprenticeship: The career path less traveled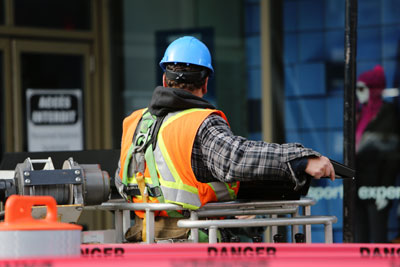 When you hear the word "apprentice," you might picture a medieval teenager slaving away with a hammer and nails.
Or perhaps you envision Donald Trump shouting, "You're fired!" at a stunned celebrity.
But craft apprenticeships aren't relics of the olden days. And they have nothing to do with the Donald's boardroom.
Often called "the other four-year degree," modern apprenticeships offer cutting-edge training in the skilled trades — plumbing, pipefitting, and bricklaying, to name a few. And that training often translates into college credit.
But instead of gathering debt, apprentices "earn while they learn" their trades.
North America's Building Trades Unions have been offering apprenticeship programs for more than 100 years. The organization's president, Sean McGarvey, told me why now is the time to learn a skilled trade.
1. You can build your way to a college degree
The average college grad is suffocating under a $35,000 pile of student debt. Apprentices learn skilled crafts and earn college diplomas without incurring such crippling debt loads.
Two hundred colleges across the country have formed the Registered Apprenticeship College Consortium to ensure that apprenticeships count toward Associate's and Bachelor's degrees.
"The opportunities are endless for students who possess both academic and craft skills," said McGarvey. "And because they're not weighed down by student debt, apprentices are free to walk through any door they choose."
2. The skilled trades can boost your skillset
Working with one's hands is a skillful, noble career option. But for some reason, many Americans consider the skilled trades grimy, dangerous, and grinding labor.
"Anyone who views blue-collar work as a second-rate career has probably never set foot in an apprenticeship training facility," said McGarvey. "Modern apprentices are more likely to use a computer-based modeling system than a hammer and nails."
In his book The Mind at Work, UCLA's Mike Rose combats the blue-collar stereotype by comparing welding to artful calligraphy and even surgery: "You're taking two separate entities and making them one."
Apprenticeships equip workers with the problem-solving and planning skills — not to mention the eye for details — that today's employers crave.
3. Help is most definitely wanted
Thanks in part to an aging workforce, 2.5 million blue-collar jobs will open up by 2017. The lack of qualified applicants for this growing number of openings in the skilled trades is keeping employers up at night.
In this environment, high-quality apprenticeship training is a ticket to secure employment.
McGarvey's organization runs 1,900 privately funded apprenticeship training centers across the country. Contact your local building trades council to inquire about apprenticeship opportunities, and find job openings here.
4. Apprenticeships offer a leg up on the ladder to the middle class
Many apprenticeship programs recruit with an eye on diversity. Detroit's union-community pre-apprenticeship partnership Access for All, for example, diligently recruits in underserved communities.
The first graduating cohort boasted a 100 percent acceptance rate into full-time apprenticeships. Increasing demand from employers for apprentices is driving the program's growth.
Thanks to apprenticeships' "earn while you learn" model, apprentices don't just survive as members of the middle class — they thrive. Newly-minted apprenticeship graduates go on to claim $50,000 annual starting salaries.
"It's about time someone offered underserved Americans a leg up on the ladder to the middle class," said McGarvey. "Apprenticeship programs are doing just that."
Unfortunately, there's a bit of a blue-collar " information gap." Many young people don't know that debt-free apprenticeships exist — or that they can provide college credit. Skilled-trade apprenticeship programs offer a modern, financially sound, diverse education.
"If we let students know this from a young age, we'll illuminate a viable pathway to stable jobs — and America's future will look a lot brighter," said McGarvey.