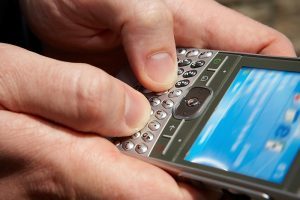 We're texting all the time. Sending a text is more timely than sending an email, yet feels less intrusive than calling someone. Texting is replacing voice calls, especially among 18- to 24-year-olds, who send and receive nearly 4,000 text messages per month.
And as the lines between work and life become increasingly blurred, there is nothing stopping workers from bringing their personal habits — especially texting — to work.
Although texting has found its way to the workplace, numerous questions remain about texting etiquette. Largely prompted by the rapid rise of smartphone use in the workplace combined with the huge number of millennials entering the workplace, texting has made its way on the job before proper protocol could be set.
Praful Shah, senior vice president of strategy for RingCentral, has witnessed a recent shift toward multiple devices in the workplace, including mobile phones, tablets, desk phones and laptops. He notes that each of these channels of communication required adoption of new habits and protocols within a business context.
Here are his six rules workers should follow when texting with managers, peers and clients.
1. Grab some context clues
Sending text messages is a natural way to communicate, especially for millennials who have been texting more or less their entire lives. But this doesn't mean clients and managers feel the same way. Watch for clues before you text. If your boss or client initiated a text message in the past, it's safe to assume you have the green light.
2. Feel it out
If you are unsure if your manager or client prefers texting to calling or emailing, test the waters the next time you have an extremely time-urgent issue by texting a question such as, "Need to chat about the project ASAP; have a few minutes to talk?" If he or she keeps the conversation going via text, it's safe to say you've opened the door for future conversations. If it moves to a phone call, perhaps you can save yourself trouble next time by calling right off the bat.
3. Keep it professional
Texting with friends and family is typically casual, but it shouldn't be in the workplace, neither to managers nor to peers. Avoid using abbreviations that wouldn't be understood across all generations and stay away from emoji overkill, since both make texts informal. The focus of workplace text messages, especially to clients and managers, should remain centered on work at all times, unless the other party initiates a personal conversation about appropriate topics.
4. Only text when response time is important
Text messaging should be saved for time-sensitive information, when emailing wouldn't generate a response quickly enough. Texting is less intrusive than placing a phone call, because the receivers have the option of ignoring the message if they are too busy to respond. When you need a quick response off hours, text messaging is a better option than calling. A quick text might prompt a response, or at least a read receipt, instead of leaving you wondering if your email has been read.
5. Limit group texting to critical things
If you loop your boss in to a group text, you will likely send an overabundance of texts that the boss doesn't need to see. If you are working on a group project, assume your manager doesn't need to see the group text behind the scenes, especially off hours. Group texting has its place — if it's a dire client emergency, for example, and you need input from colleagues right away.
6. If it can wait, don't text.
Bottom line, you communicate with your clients, bosses and peers face-to-face and via email and conference calls daily. Before you add texting to the mix, ask yourself if it can wait until you're back in the office or online tomorrow. If it can wait, you've saved yourself the headache of wondering whether or not a text was appropriate.
There's no way to eliminate text messaging from our communication mix, and it's infiltrating our conversations at work. If you think before you text, and save texting for the most urgent conversations, it can be a helpful channel for communicating with clients, managers and peers alike. If not, and you go overboard with the number of texts sent, emoji used or spelling errors made, it can be extremely unprofessional.
The simple answer: If it's work-related, think it through before you send that text.