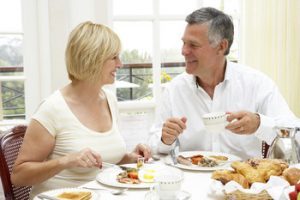 When you're considering a career change, a good place to start looking for job advice may be right at home.
That's what more than four in 10 senior executives polled in a new survey by Accountemps do: They said the first person they consult with when evaluating whether to take a new job is a spouse or significant other.
It makes perfect sense to turn to the person you're closest to for a decision as significant as a career change. After all, our husbands, wives, or long-term partners know what makes us tick. They are aware of the aspects of our jobs that provide us the greatest satisfaction and where our work frustrations lie.
Furthermore, the implications of changing jobs — especially if it requires relocation or even a longer commute — can upset family life. So naturally we want to take into consideration our partner's input.
Still, many career experts recommend also engaging a specialized job-search coach or recruiter for this type of decision. Here are four tips for evaluating a potential job offer with your spouse and other career mentors:
1. Pick the right time to talk
With daily demands from work, household chores, getting kids to and from school, errands and carving out a little downtime, it's no wonder some couples find only a few minutes in a 24-hour period to communicate with one another.
With a decision as critical as a career change, however, it's crucial that you and your significant other set aside a block of time to discuss the pros and cons of a job prospect and how it will impact your relationship and family life, as well as the household budget.
2. Size up the offer
Together, you may go over questions such as: Is the salary competitive? Does the workplace culture appeal to you? Do you like the daily job duties? And remember to look at the employer's big picture: Does the company have a strong financial track record? What are the organization's plans for growth? In addition to compensation, evaluate perks and benefits such as flexible schedules, telecommuting options, recognition programs and mentoring and training opportunities.
3. Find other people to talk to
According to the U.S. Bureau of Labor Statistics, 2.7 million people quit their jobs in April. The job market is in tremendous flux and more companies are vying for top talent. The Accountemps survey, which polled more than 300 senior executives in the United States, showed that after spouses, respondents sought job advice next from friends and mentors, at 21 percent and 20 percent, respectively. Coworkers (9 percent) and other family members (7 percent) rounded out the responses. It can be very beneficial to hear different perspectives about your decision from people you trust, whether it be a close coworker, sibling or parent.
4. Consult an expert
While a spouse can provide support and understanding, he or she may lack objectivity, experience in your field, or strategies for branding your professional profile that an expert career advisor can provide. Bill Driscoll, a district president of Accountemps said, "The advice of a spouse or friend can be valuable as you evaluate a job offer because they're familiar with your personal preferences, but don't overlook the valuable perspective a mentor within your field can offer."
But before you heed any job advice, remember you ultimately know what's best for your career. Your decision should come only after strategic and objective evaluation and planning. The bottom line for handling job advice as you approach any career change or new job: Keep an open mind.